RAIL TO TRAIL (R2T) STAYS ON TRACK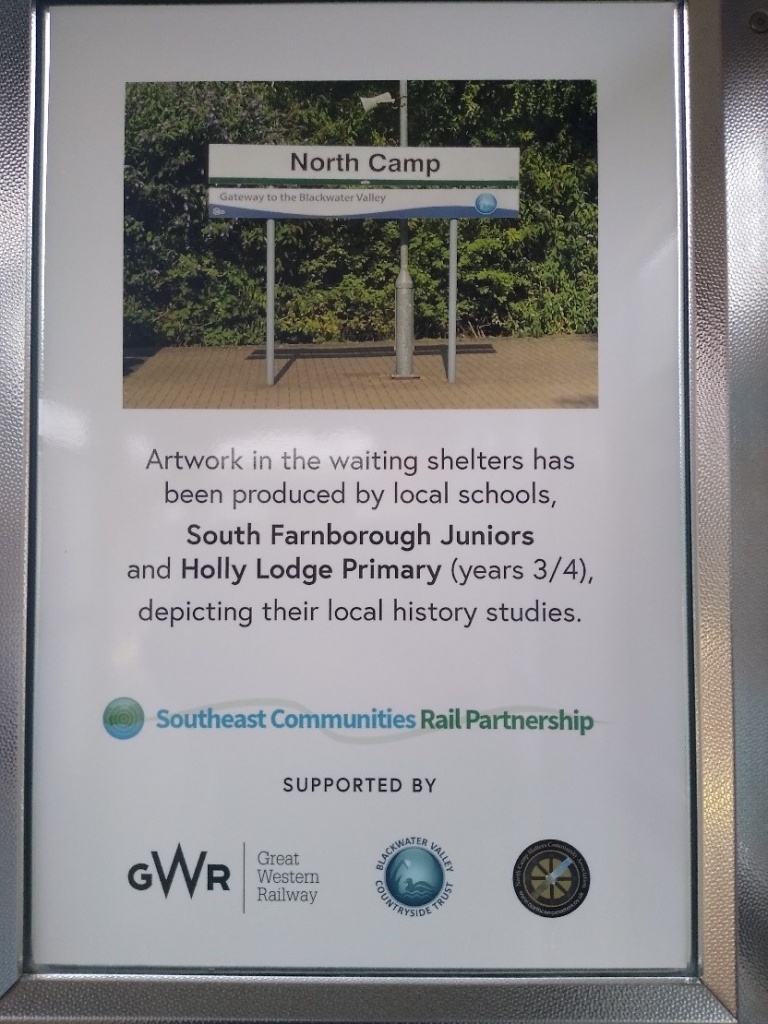 This project started as an "interesting opportunity" in March 2019 and has grown into one of the Trust's key activities.  Its primary aim is to encourage people to explore the Blackwater
Valley using sustainable transport and as a result reduce carbon footprints.  It has helped the Trust forge many new partnerships as it has gained momentum.
In conjunction with the Southeast Community Rail Partnership and Great Western Railway, our first initiative was to erect poster cabinets to house a map of the Valley with directions to the Valley footpath from four stations along the North Downs Line (Guildford to Reading). The stations are North Camp, Farnborough North, Blackwater, and Sandhurst.
We planned to launch R2T formally in March 2020 with a walk between stations.  We had to call this off at the last minute due to the pandemic., but the appetite for the initiative was clearly there to be seen. We intend to arrange a similar walk with a rail dimension sometime in the future.
Next, the Trust formally adopted North Camp Station in 2021 as part of the Community Rail Networks station adoption scheme.  This allows the Trust, working with other local groups and associations, to have a say in enhancing the station aesthetically to improve passengers' experience.  We are working in partnership with the North Camp Matters Community
(NCMCA) and have already delivered school artwork installations to the two
platform shelters.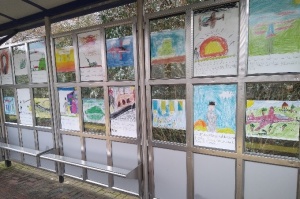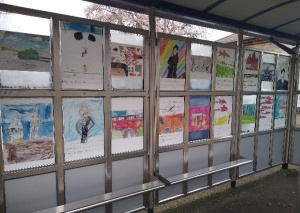 The third strand of the project was to design and erect 'Gateway to the Blackwater Valley' station platform running-in boards at North Camp, Farnborough North, Blackwater, and Sandhurst.  These are now in position.
As part of the promotion of the Trust, the Valley, our conservation objectives and in furtherance of our environmentally friendly and well-being initiatives, we have produced two Rail to Trail circular walk pamphlets from railway stations. The routes link Farnborough North, Blackwater and Sandhurst stations.  They can be used for a simple walk from one station to the next or combined to form a circular walk along the Path between the stations returning through the countryside – from around 3 to 14 miles depending on the configuration you choose.  These will eventually form part of a series of routes using stations as hubs to enjoy the wonderful countryside and places of interest we have in our neighbourhood.
In May 2023 we completed a landscaping project on one of the platforms at North Camp, sponsored in partnership with Southeast Community Rail Partnership, Kebur Garden Materials, BVCT, NCMCA and the Old Ford Pub. This has been a true community venture.
The potential to use the R2T initiative as a catalyst for other projects in the Valley will depend on available resources – as ever more volunteers would add value!  If you want to know more or find out how you can become involved in similar projects, please contact Chris Smith (BVCT Trustee) at chris@bvct.org.uk
Chris Smith