North Camp Station work reaches another milestone.
The fifth phase of the Rail to Trail (R2T) project at North Camp Station has been completed.  BVCT and its partners have turned what once was a derelict piece of land on Platform 2 into something not only more aesthetically pleasing but also more environmentally friendly.
Following the adoption of North Camp Station by BVCT under the GWR Station adoption scheme attention soon turned to how the station could be made to look more attractive and passenger friendly.  One of many ideas was a proposal to build a wildflower garden.  After negotiations between BVCT and Southeast Community Rail Partnership (SCRP), GWR and Network Rail were approached and permissions soon were gained to proceed.
Working with North Camp Matters Community Association (NCMCA), we contacted local landscape company Hortus Paradisi who designed and priced a scheme.  Funding was found bringing together a syndicate of sponsors.  With the optimal planting season in mind plants and shrubs were ordered.
As excavation on a working platform was not permitted due to the presence of underground services, the project required us to build a raised bed.  A detailed survey of services was carried out before we started.  All cutting and preparation had to be carried out off site as no power tools were allowed in the vicinity of a live railway track.  With the kind permission of the Old Ford public house, materials were delivered to the pub, and assembled in situ.  Before this specific safety training for working on a railway property was undertaken; everybody working on site needed to earn their GWR hi-viz jacket and safety certificate as a 'station friend'.
The first job was to clear the site of existing rubble and unwanted materials.  The work started in a very cold snap in January 2023 when the ground was solid and it took some time to get back to a suitable surface to start the new construction.
Sleepers were first put in place, then topsoil, then a membrane topped with bark mulch.  All the building materials were sponsored by Kebur Garden Materials Ltd.  A special thanks goes to Jo Holtom and the Kebur team for supporting the project.
The final task was to install some wildlife friendly plants to encourage biodiversity to flourish.  For the keen gardeners amongst you these were Rhododendron Percy Wiseman,  Polystichum setiferum and Pulmonaria 'Trevi Fountain'.  The bed was finished off with wildflower turfing.
Planting does not look entirely after itself – another role for volunteers.  The planting at the station is currently tended by BVCT, and the Rotary Club of Farnborough will soon have members who are station friends who can assist.
The R2T project has been a true community partnership bringing together individuals and organisations who have a common interest in the environment and well-being. The railway station has acted as a catalyst and there is no reason why this type of initiative cannot be replicated at other railway stations along the North Downs Line, which runs from Reading to Gatwick.  If you would like to be involved in similar ideas in your area along the Blackwater Valley, please contact Chris@bvct.org.uk for further information.
The new planting was formally "opened" on 7 June when people who had helped the project came together to celebrate the completion (subject to ongoing maintenance) of this stage.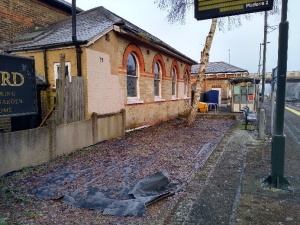 The site in January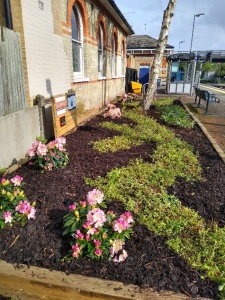 And again in May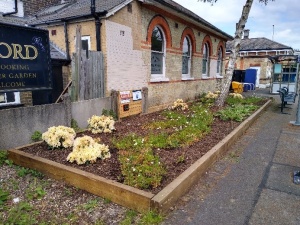 And finally, June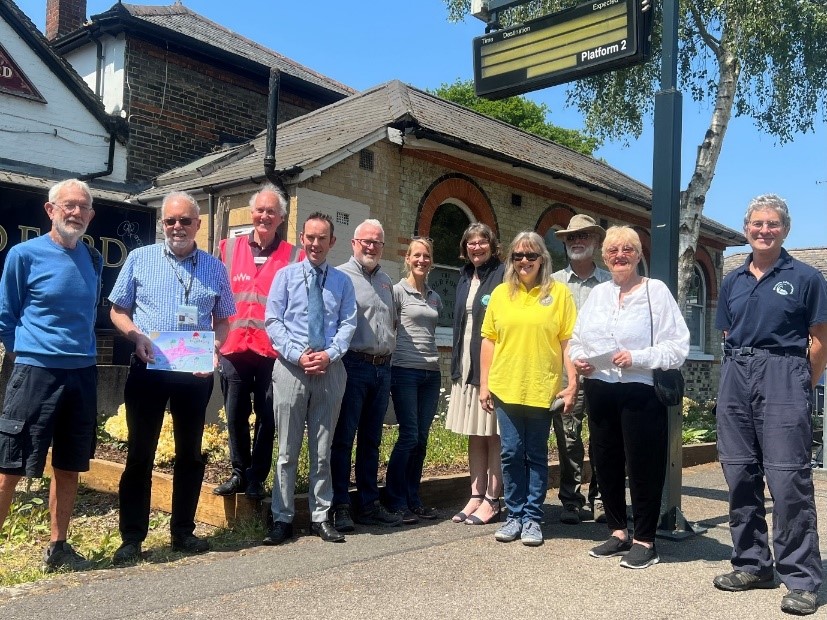 From left to right in the photograph the people attending on 7 June included: Alan Taylor (BVCT), Peter Bassett (NCMCA), Chris Smith (BVCT), Andy Gallaugher (Senior Duty Manager GWR), Cliff Mosey (Director Kebur Garden Materials Ltd.), Jo Holtom (Kebur Garden Materials Ltd.) Caroline Salmon (SCRP Community Rail Officer, North Downs Line), Alison Andrews (Chair, NCMCA), Bernard Baverstock (BVCT), Cllr. Diane Bedford (Rushmoor Borough Council and Rotary Club of Farnborough), and Steve Bailey (Manager BVCP). Not in the photo but equally important were Clive Ayling (Customer Sales Advisor GWR Ticket Office at North Camp Station), Emily Moore (BVCP), Margaret (manager Old Ford) and David Daniels (retired former SCRP Community Rail Officer, North Downs Line).