Who are we?
The Blackwater Valley Countryside Trust was founded in 2006 by enthusiasts who care about the people and wildlife of the Blackwater Valley. We are a registered charity, with seven dedicated Trustees using their wide range of backgrounds to help conserve and improve its natural environment. This includes managing its countryside, preserving its wildlife habitats and landscapes by making conservation projects happen. And that's not all - we organise events, including walks, talks and conservation activities, and encourage the public to take part in them, educating people about, and introducing them to, the Valley and its wildlife. In short, we do anything we can to make the Blackwater Valley a better place to live and visit!
If you'd like a taste of what we get up to, click on our Facebook icon at the bottom of this page. You'll see reports and pictures of activities we've organised, environmental news from around the Valley, and general items of interest to anyone who shares our passion for this hidden gem of a Valley. 

Our Aims
Our aims are to enhance the environment for both people and wildlife by:
Promoting public access to the countryside by means of a programme of events, including walks and talks

Involving people in their valley and the wildlife on their doorstep

Identifying improvement ideas, creating projects and raising funds to progress them

Encouraging a sense of belonging in the Blackwater Valley
We work closely with other organisations who support our objectives including:
Blackwater Valley Countryside Partnership

County and Local authorities

Local groups with similar interests
The Valley
The Blackwater Valley stretches from Rowhill on the Hampshire and Surrey border, to Swallowfield in Berkshire. After rising at Rowhill Copse, the river joins the Whitewater 23 miles later becoming the Broadwater. It has a surprisingly varied landscape rich in wildlife, and the shallow floodplain along the river, set amidst extensive heathlands and woodlands, contains many lakes and wet meadows created by many years of gravel and sand extraction. Over 300,000 people live in this area and the network of public green spaces and footpaths adds greatly to their quality of life.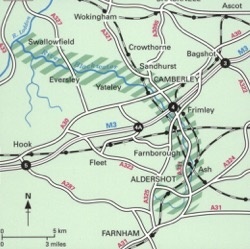 Funding
We raise funds from grant bodies and other sources, such as the Landfill Communities Fund, certain Lottery Funds and charity aid schemes, together with funding secured from other sources such as local companies.
Meet our Trustees
Join our Management Team
Would you like to make a difference to where you live? Have you got a few hours a month? Then a volunteer role in our Trust Management team could be the answer.  We need people like you to help us continue our valuable work. With hundreds of members, we have a lot to do......
The most important thing you can bring is that you care about where we live - here in the Blackwater Valley. But perhaps you're also a good organiser? Know a bit about customer service? Got some knowledge of, or an interest in, wildlife and conservation? Do you have any town and country planning knowledge? Maybe you have an IT background, or you might even be a whizz at social media? Knowledge of how charities and business work is helpful, but not essential. And these are only a few examples - any one or combination of them would be a great help,as will any other useful experience you can bring to the table.
Want to know a bit more?
Just Contact mary@bvct.org.uk or colin.wilson@bvct.org.uk for an informal "no commitment" chat and a few more details.