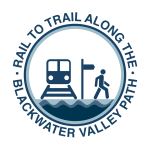 If you are a Trust member, you're concerned about the environment. You'd probably also like to reduce your carbon footprint.
Our latest initiative is on the right track
We've got together with our local train service to show how easy it is to get more - more out of your Blackwater Valley by using the train, and more out of the train service by seeing the Valley. It's a win-win!
Because the North Downs rail line closely follows the course of the River Blackwater and the Valley Path, Rail to Trail shows how easy it is to use the stations to open up parts of our scenic Valley you would normally only reach by car. Stations on the North Downs rail line include:
Rail to Trail ticks a lot of boxes - it:
encourages use of the train rather than the car, reducing carbon footprints
helps residents and visitors who are walkers to enjoy parts of the Valley they might not have considered
makes train users think about walking in the Valley
has a direct impact on health, fitness and wellbeing.
Some experts think that the best conditions for clear thinking involve train travel, walking, countryside, and water. The Blackwater Valley has the lot!
Our partners in Rail to Trail